B-Office 2000 is a modular software system that provides a complete integrated solution for accounting and management of warehouses and stores, developed in full compliance with the accounting and tax law and the positive standards in the Republic of Macedonia.
B-Office 2000 is carefully designed to fulfill the three fundamental needs that the professional business software users have, and those are: QUALITY, SPEED and PRICE.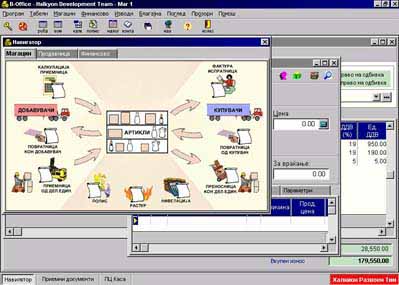 B-Office 2000 consists of the following modules:
Accounting manager
Warehouse manager
Store manager
Tax manager
Bank account records and cash register
Custom developed modules
The Accounting module is a complete solution for accounting and finance. The main functions of this module are:
Standard account entry system
Automatic account entry system
Account numbering plan
General Ledger
Synthetic and analytic reports
The Accounting module is very flexible to the user. For example, the automatic account entry system is specially designed for quick definitions of the accounting schema for every new type of document. With this method the accountant can make hundreds of record entries in few seconds, which can lead to big improvement of the efficiency.
The Accounting module offers all the standard synthetic reports that are required by the legal authorities, and analytic for organizing the financial data. According to the accounting law in the Republic of Macedonia, the synthetic reports present the aggregation, while the analytic reports present the details of the financial data. The user can also customize the look of the reports with a special integrated report designer tool.
The Warehouse Manager module is a complete solution for warehouses, stores and repair services, i.e. everywhere where stock control is needed. The full Store Manager module is also included within this module. The main functions of this modules are:
Stock control system
Invoicing system
Cash payments
Payment receipt
Tax management
The Warehouse Manager module has a lot of different predefined reports and the user can customize their look with a report designer tool. The module has detailed reports about the:
Inventory of goods
Payments
Invoices and billing
Transfers of goods
Returns of goods
Sales analysis, etc.
The module offers management and preparation of different types of standard documents, such as:
Invoices
Bills
Transfer documents, etc..
TECHNICAL DETAILS: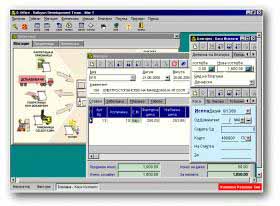 B-Office 2000 works on Windows 95/98/NT4.0. Fully supports networking with unlimited number of workstations and management of unlimited number of warehouses and stores. Can be used by many operators simultaneously and each operator can be granted rights, permissions, limitations and/or restrictions, either for input or preview of data.
The high level of reliability and security is provided by a robust database that is shipped with the software.
Sneak preview of the database model of B-Office 2000: